TForce Offers T-Tracks to Healthcare Customers to Monitor Perishable Shipments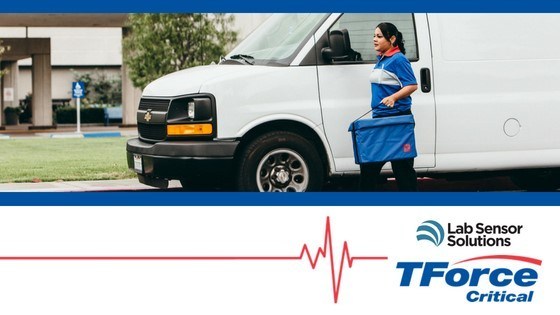 TForce Critical offers time-critical, stat, and routed same-day deliveries for the healthcare industry. A very large component of these deliveries is the transport of lab specimens and live organs that require fast, careful, and temperature-controlled delivery methods. Our commitment to exceptional customer experiences and patient care has positioned us as a leader in critical shipments.
TForce has partnered with Lab Sensor Solutions, a provider of real-time temperature and location solutions. T-Tracks monitors perishable shipments while in transit with up to the minute updates. This technology solution allows TForce to closely manage transport and ensure that shipments are delivered with the exact instructions and in prime condition.
"TForce is a leader in logistics and we're so happy they selected our T-Tracks solution to monitor the temperature and location of their sensitive shipments," said Geoff Zawolkow, CEO of Lab Sensor Solutions. "TForce is a wonderful strategic partner that is committed to quality and continuous process improvements."

Perishables, such as blood samples, pharmaceuticals, and fresh food, need real-time monitoring of the temperature and location of perishables so that they don't spoil. This capability is essential for today's fast-paced logistical environments where on-demand delivery of perishables is accelerating. It's this trend that makes it essential for real-time systems that can tell customers where their perishables are and if they were kept in the right conditions.
"Our customers have been asking for the T-Tracks capability for some time now," said Scott Leveridge, President of TForce. "This new capability will allow us to give our customers the peace of mind they have been asking for and we believe the technology can apply to many other logistics applications."
Perishables are especially sensitive to temperature swings and thus it's important that conditions be monitored in real-time to ensure that temperature extremes are avoided. This is particularly important when the perishables are medical samples, vaccines, or pharmaceuticals since those perishables are used to diagnose and treat disease. Lab Sensor Solutions in their recent study with TriCore Clinical Laboratory showed similar results to the deployment with TForce. Both deployments underscore the importance of a quantitative approach to perishable integrity instead of the old methods of relying on a validated process without monitoring.
TForce is proud of this partnership and what we can achieve together. We are constantly looking for ways to better serve our customers. With T-Tracks, we can ensure reliable transport for critical deliveries with temperature-controlled solutions. To learn more, visit our website at http://www.tforce.com
Parts of this blog was originally published on November 7, 2017 in a press release written by Carrie Brunner. You may view the original publication here.

About Lab Sensor Solutions
Lab Sensor Solutions' mission is to improve lives through the use of real-time sensor technology. We deliver real-time information on healthcare asset so our customers can monitor, report and act to assure items are in the right place, at the right time, and in the right condition.